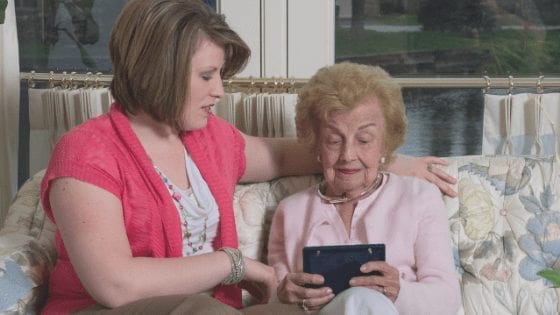 How do you know when it's time to consider moving a loved one to memory care? Are the effects of dementia, memory loss or Alzheimer's becoming too much for your family to manage at home? Story Cottage Living is here to help our Central Indiana families recognize important signs to watch for in your aging loved one with memory loss, as well as tips for making the transition to a local care residence. 
Signs to Watch For in Your Loved One
When you are caring for a loved one with memory loss or dementia, you should always remain on the lookout for signs that they need additional help, especially if they currently are living alone. It may be time for the move to memory care if you notice changes in behavior or confidence that reduces their independence. 
You may see confusion or poor judgement that can lead to dangerous decisions, as well as wandering or getting lost. Memory care is also in your loved one's best interest if their physical health is declining, particularly in regards to incontinence, eating well or routine personal care. It may also be time for memory care if your loved one's spouse or regular caregiver is showing signs for health deterioration. 
Research the Best Memory Care for your Needs
When you've made the decision that it is time for memory care, the next step is to do your research on the best fit for your loved one and family. At Story Cottage, our locally owned locations at Meridian Hills, Indianapolis and Carey Grove, Carmel offer a first-of-its kind model of memory care for our clients. 
When you work with Story Cottage for your loved one's care, they will benefit from person-centered and innovative services within a residential-style home with top-quality safety features. Your loved one will enjoy a personalized curriculum of activities and companionship to meet their specific emotional and physical needs, provided by dependable caregivers with extensive memory care experience. 
Preparing the Move For Your Loved One
As you prepare for your loved one to move into memory care, recognize that the transition will likely be challenging. In general, it is recommended to complete as much of the planning and packing without your loved one's help, as decision making and multiple-step processes can be difficult for those with memory loss. It is also advised to not announce the move in advance, in order to prevent your loved one from being upset for longer than necessary.
Avoid packing too many items, but find what is most important to them to offer comfort in the move. If you don't already know which knick-knacks and personal objects are most important to them, spend some time observing their daily routine to see what they use and enjoy most often. And when you make the move, try to align it with the best time of day for their mood.
Adjusting Once the Move has Occurred
Once your loved one has moved into their new memory care residence, you can use familiar music or comfort food to help them feel more comfortable with the transition. Work with your new caregiver staff to identify the best time to visit. For some memory care patients, it may be best to wait until they are adjusted to visit or take them on outings. Once your loved one is ready for visits, Story Cottage offers multiple spaces for families to share a meal or spend time together.
If you think the move to memory care may be in your future, it's never too early to join a waitlist for a local residence such as Story Cottage. You can reach out to Carrie Cash to join our Story Cottage at Carey Grove, Carmel waitlist, or you can schedule a complimentary consultation online or at 317-449-5696.