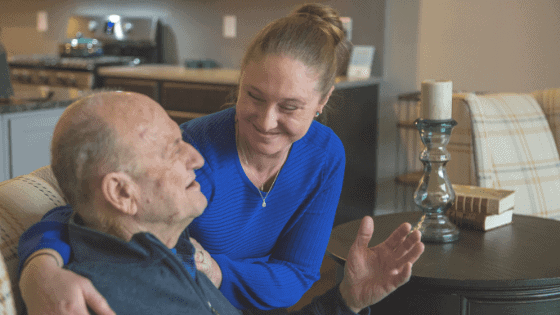 What Memory Care Looks Like Today
Searching for a memory care home for your loved one can seem overwhelming, especially if you have unsettling recollections of visiting an elderly friend or relative in a cold, institutional facility. Today's contemporary memory care trends for seniors with Alzheimer's disease and other forms of dementia are refreshingly different, providing a homelike atmosphere in a safe and secure residential setting.
Person-centered care
The Alzheimer's Association recommends person-centered care for individuals with dementia. This means caregivers who take the time to get to know their residents, learning their values, beliefs and interests, both past and present. Story Cottage employs one caregiver for every three to four residents – the lowest caregiver-to-patient ratio in the Indianapolis metro area – which allows ample opportunities to develop personal relationships between residents and staff. Families can also contribute to their loved one's sense of self, gathering to celebrate milestones or just spend an evening working on a puzzle or catching the playoff game on TV together.
Curated caregivers
Today's memory care trends include teams treat residents like family. Caregiver activities encourage mutually beneficial relationships, as both the resident and the caregiver grow to know and understand each other. Instead of "doing for," today's memory care caregivers are more likely to be found "doing with" their residents, whether they're participating in physical and occupational therapy or enjoying a quiet conversation where they become better acquainted.
These relationships can contribute to better quality care, as residents feel comfortable sharing their concerns with their caregivers, and caregivers become better attuned to what residents need and want. A professional healthcare staff is also on the premises, overseeing medications and other treatments and making changes as necessary to allow residents to maintain their mental, emotional and physical health and happiness. 
A homelike setting
Nobody wants to live in an institution. Current memory care trends mean residences that are built with home in mind. In so-called boutique memory care homes, patients enjoy a unique combination of care as needed and privacy for those who are comfortable being on their own. Their surrounding environment is calm and inviting, with comfortable furniture and aesthetically pleasing décor in common areas to create a visually stimulating yet soothing setting.
Dining may be family style around a long, welcoming table, or meals can be served individually to residents according to their daily preferences. Family and friends are welcome to visit and join their loved ones in the common areas or in one of the many private spaces within the facility. Individual rooms can be decorated with familiar mementos, and common areas will become home as residents spend more time together with their peers.
Neighborhood locations
Memory care trends mean locations are becoming increasingly more residential, built on the fringes of thriving neighborhoods. Indiana's first Story Cottage, located just north of the picturesque Williams Creek neighborhood in Meridian Kessler, and the recently opened Carmel Story Cottage, nestled within the trees of the Maple Acres neighborhood on Carey Road, give residents a sense of home without compromising the safety features that are unobtrusively built into the dwelling. Residents can enjoy both the comfortable home interior and the enclosed outdoor area in a secluded, secured setting.
Learn more about Story Cottage
Story Cottage offers your loved one a luxurious home setting where he or she will be treated with care, compassion and dignity. These first-of-its-kind exclusive residences in central Indiana provide the highest level of memory care in an intimate, secure setting. Tailored to your loved one's specific physical and emotional needs, Story Cottage strives to create the best possible experience daily for your loved one. You'll have peace of mind, knowing your cherished parent, relative or dear friend is receiving the best care you can provide.  Contact us today online or at 317-449-5696 for your complimentary consultation.