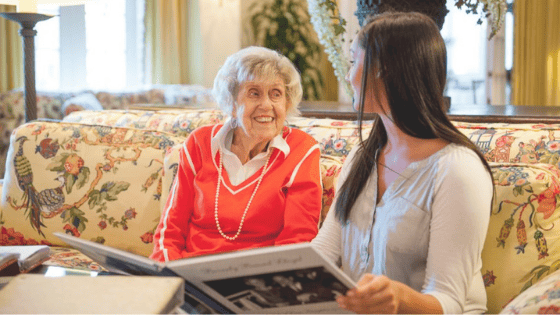 Caring for a loved one with Alzheimer's or memory loss can sometimes be difficult. As they lose their ability to remember your life and theirs, reality may seem to be slipping away. At Story Cottage, as evidenced by our very name, we feel that storytelling and reminiscing on life experiences is an important part of memory care. There are numerous benefits to storytelling and helping your loved one reconnect to their world. 
The Therapeutic Science Behind Storytelling
Several studies on memory loss and Alzheimer's have shown that reminiscing on past life experiences and storytelling with loved ones can access memories that are still viable in the brain. Long-term memories are generally not affected until later in the progression of Alzheimer's disease, which is why your loved one may not remember something you told them yesterday, but they can remember lessons they learned in grade school. 
Storytelling or reminiscing on the past has even been shown to improve health in the present. Daily living can feel overwhelming for memory loss patients, but putting a solid stake in a past memory can help them feel self-worth and confidence. Communication skills may also begin to fail with memory loss, but your loved one can form new brain pathways during time spent reminiscing. Remembering the past can also alleviate symptoms of agitation, depression or isolation by giving a sense of purpose again. And storytelling can also improve the lives of caregivers, by providing an opportunity for engagement when other activities may be difficult. 
Storytelling Prevents Stories from Being Lost
Caregivers and families can benefit from storytelling by preventing their loved one's past from being lost. This is a great opportunity for you to write down your family stories to pass on to future generations, and to reflect personally on how times have changed. Caregiver fatigue for memory care is all too real, and empathizing may become easier when you learn more about their past and how it made your loved one who they are today. 
Storytelling Practices You Can Do at Home
Reminiscing and storytelling can incorporate all five senses, each bringing something different to your loved one's awareness. Sight can obviously include old photos or videos, but touching those photos or personal mementos in a collected memory box may bring up stories they thought they'd lost. Smell and taste can bring someone back to a specific time or emotional state, with era-appropriate recipes or favorite foods. And according to the Alzheimer's Association, the sound of music may just be one of the most powerful forms of therapy for those with memory loss. 
Keep in mind that reminiscing can also be a specific activity for caregivers and memory patients to do together. Play a simple game or puzzle that brings back childhood memories. Watch videos (ones you own or try searching on YouTube) that bring up nostalgia for your loved one's past or perhaps a love for travel. Visit beloved neighborhood spots that have meaning for both of you. Allow reminiscing and storytelling to be a bonding activity for your family relationships. 
Story Cottage Can Help
If you are seeking a place where your aging loved one's memories will not be forgotten, but treasured, look no further than Story Cottage at Carey Grove, Carmel and Meridian Hills, Indianapolis. Our trained caregivers provide first-of-its-kind residential care with the lowest patient-to-caregiver ratio in the city, in order to give your loved one personalized oversight and your family true peace of mind. Contact us today online or at 317-449-5696 for your complimentary consultation.