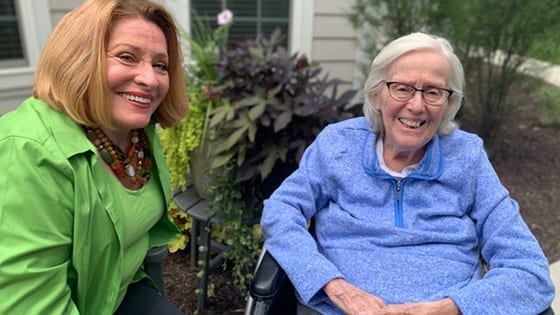 What do you love about your neighborhood? The peace and tranquility? The easy access to shopping and restaurants? The relationship you develop with your neighbors?
For many of us, the latter defines a neighborhood. And it is no different with Story Cottage, a unique memory care solution opened in 2019 at Meridian Hills, Indianapolis. Staff and residents alike appreciate the neighborly relationships that have formed with those who live down the street and around the corner. As construction gets underway at our new Story Cottage at Carey Grove, Carmel, we look forward to building new relationships with our Maple Acres neighbors. 
In a recent letter, Alice Shelton shared the story of her mother-in-law, Joan (pictured right), a Story Cottage resident in our flagship location at Meridian Hills, Indianapolis . We see great value in interacting with our Story Cottage residents, as she does, and hope that our new Carey Grove, Carmel neighbors will enjoy these future interactions as well.
"Imagine 91-year-old Joan sitting on the front porch with her friend Mary Beth. Joan is watching the birds on a nearby bird feeder and smiling with delight. She hears a plane overhead and shields her bright blue eyes with a hand to follow the path of the white tail left by the aircraft. A neighbor jogs by and waves at the pair and they wave back.
The afternoon passes. Joan picks up a coloring book and a green colored pencil and begins to fill in a page of the book. She likes green best and she most often colors pictures of flowers and plants. Mary Beth encourages her to try pink, orange, blue. Joan's son John stops by for a visit. He brings along cookies. Joan exclaims, "Hi John- John! Oh, I LOVE cookies!"
This is a typical day in the spring and summer at Story Cottage at Meridian Hills, Indianapolis for my mother-in-law, Joan. As the temperatures cool in the autumn, the activities and wonderful meals for Joan and her seven housemates move indoors and are no less personal. The Story Cottage staff continue to create individual and impactful experiences for each of them.
Joan lived in our home for six years before moving to Story Cottage. Joan has dementia. My husband and I understand what care with a "personal touch" is all about. At Story Cottage, Joan is not a "patient," she is not a "dementia case." She is a resident, neighbor and friend. Story Cottage is Joan's home. When she moved there, her upright piano went with her. She still plays.
Neighborhoods are important places for all of us. When neighborhoods change, it can be difficult. I know that for me, it is sometimes hard to gather up courage to walk across the street, knock on a new neighbor's door and say "hello" – and "welcome."
I hope that the wonderful neighbors in the Carey Grove, Carmel community will view their new Story Cottage neighbors as people, just like Joan. I know that they would enjoy a visit! And please don't forget the cookies!"
-Alice and John Shelton
Story Cottage President David Morgan, a sixth-generation Carmel resident, looks forward to this new facility joining the Maple Acres neighborhood and its residential setting.
If you have questions about Story Cottage, please contact our office at 317-449-5696 or schedule a complimentary consultation online. We look forward to meeting our new Carey Grove, Carmel neighbors in the coming months.