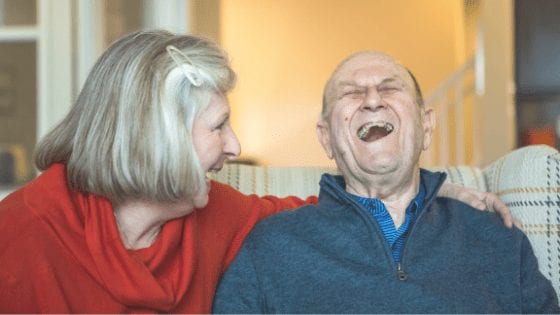 Are you caring for a loved one with Alzheimer's or memory loss? The Alzheimer's Association reports that there are 16 million Americans providing care for people with Alzheimer's or dementia. It's important to know that you're not alone in this journey, and it's also important to remember that it's okay to laugh!
Here in the Story Cottage at Meridian Hills, Indianapolis , we believe that keeping a positive outlook and humor in your day to day life with a dementia patient will make it easier to face the challenges inherent with memory loss and Alzheimer's. 
It's Okay to Laugh
When you are caring for someone with Alzheimer's or dementia, it may feel like you have to be serious all the time. Of course, these are serious conditions, but it doesn't mean that you can no longer enjoy a sense of humor when something out of the ordinary happens.
It is common for those with dementia to have lowered inhibitions about public versus private behavior, or for them to act out of character. If something happens that is funny, it's okay to share a laugh! As long as your loved one does not feel mocked or that the laughter is unkind, laughter can sometimes truly be the "best medicine."
Boost your Health with Laughter
Laughter is great for your mental health as a caregiver. It releases endorphins (feel-good hormones) that will improve your mood, especially in difficult situations. Laughter can naturally decrease anxiety and depression, and can diffuse anger when you are in a heightened emotional state.
If you have been having a hard time connecting with your loved one, sharing a laugh together can help you bond closer together. It can provide a positive outlet for potential grief, and can give a senior a simple way to communicate when they may be losing the ability to communicate effectively.
Bring Joy to Your Loved One
Laughter isn't just good for caregiver health, it can be effective in helping aging loved ones too. Studies have shown that laughter in "humor therapy" can be extremely effective in reducing agitation for dementia patients, appearing even as effective as psychiatric drugs.
It's been found that somewhere between 70-80% of dementia patients can suffer from agitation or distressing behaviors like wandering or repetitive actions. But consistent "humor therapy" and a person-centered approach from researchers reduced agitation by up to 20%. Keeping your sense of humor both about caregiving situations, and directly with your aging loved one, can be hugely beneficial as a caregiver.
Remember, You are Not Alone
It may feel isolating to be a caregiver sometimes. This is when you can seek out support from not just friends and family, but also with those who care for loved ones with dementia who would understand your similar situation. The Alzheimer's Association provides many local support groups, as well as an online community to connect with caregivers.
Sharing stories, both funny and sad, with fellow caregivers can help you remember that you are not alone. Laughing together can provide a unique connection that many others may not understand. As a dedicated home for memory care patients, our Story Cottage caregivers love to laugh together and with our residents about the humorous situations we often find ourselves in.
If you are seeking out a one-of-a-kind memory care solution in Indianapolis, contact our team today for a complimentary consultation. We would be happy to provide you with peace of mind and a joyful place for your aging loved one to reside.