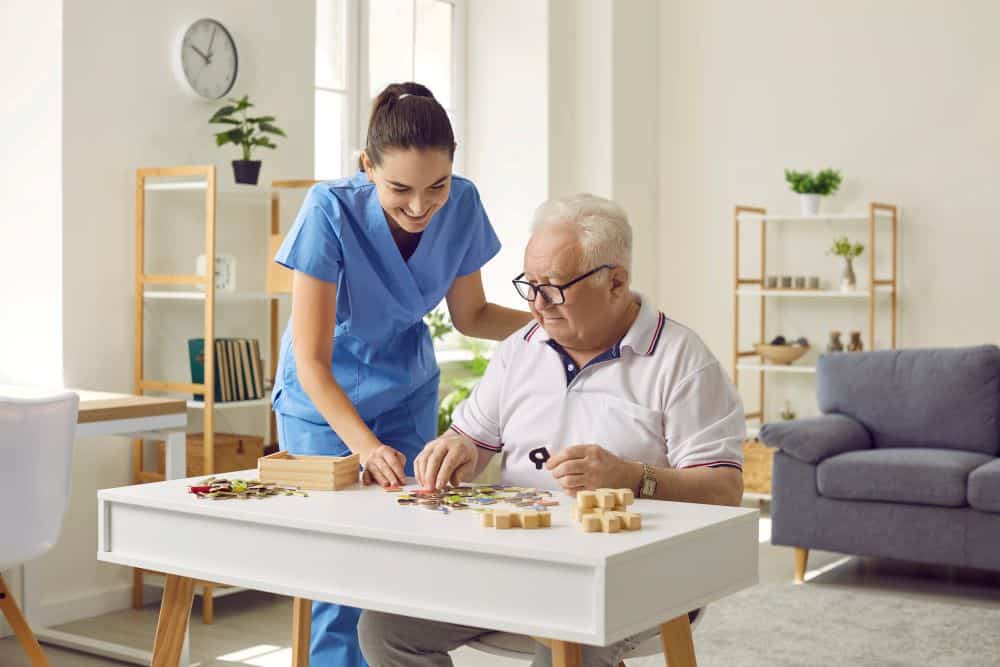 Caring for a loved one suffering from memory loss can feel impossible without support. 
Memory care facilities can provide specialized support, safe environments, and significant increases in quality of life for those suffering from memory loss and their support systems. 
Unfortunately, the cost of memory care is often a serious concern. 
To help the thousands of caregivers like you, we're exploring whether Medicaid covers memory care in Indiana. We'll also provide insights into potential financial assistance options that could help ease your financial burden and ensure access to quality care.
Does Medicaid Cover Memory Care
Unfortunately, memory care is not directly covered by Medicaid in most states, including Indiana. However, the wide range of programs, waivers, initiatives, and more found at the state level are worth exploring for those suffering memory loss and their families. 
Does Medicaid Pay for Memory Care in Indiana?
Thinking about Googling "memory care facilities that accept Medicare near me"? We've got you covered. 
Indiana's Medicaid program does not cover memory care directly. 
However, certain waivers, like the Aging & Disabled (A&D) Waiver, can provide a path to Medicaid funding for memory care. Indiana's Medicaid department states eligibility for the A&D Waiver depends on residency, facility qualification, income, assets, and care requirements.
How Much Does Dementia Care Cost in Indiana?
Good news! While in-home dementia care costs can vary significantly between care providers, most memory care facilities in Fishers, Indiana, are more affordable than the national average. 
The average cost of dementia care in the United States is roughly $5,700 per month. Indiana's average costs are about 7% lower, at $5,300 per month. The average hourly cost of dementia care in Indiana is $33.13, which is almost $4.00 cheaper per hour than the national average of roughly $37.00 per hour. 
How Much Does Memory Care Cost in Indiana
Memory care's narrower scope of care means it typically costs less than dementia care. However, the difference can range from marginal to significant depending on your or your loved one's care needs, your location, and your chosen care provider.
On average, expenses at memory care facilities near me range between 10 and 30% cheaper than comprehensive, full-time dementia care. Using the figures above, that translates to an average monthly cost of memory care between $3,710 and $4,770 per month. Average hourly costs should fall between $23.20 and $29.82 per hour.
What Is the Difference Between Memory Care and Dementia Care?
While memory and dementia care may share many similarities, there are key differences you should know. Memory and dementia care diverge most regarding the scope of care. 
Memory care facilities typically focus on serving and supporting individuals with mild to moderate memory loss. Their patients often need some form of daily care but maintain the ability to engage in basic self-care and other day-to-day tasks.
Dementia care facilities serve individuals with moderate to severe memory loss. Patients at dementia care facilities typically:
Require extensive or specialized care and support

Suffer from additional mental and physical health challenges

Demonstrate an inability or severe difficulty engaging in essential daily tasks 

Exhibit dangerous behaviors – like wandering, medication mismanagement, and home and cooking accidents. 
Have Memory Care Questions? Ask An Expert!
The top choice for many elderly individuals is to stay in the comfort of their own home, even as their memory deteriorates. At Story Cottage, we offer a solution that helps mimic that at-home feel, while simultaneously offering top quality care. 
Story Cottage is a first-of-its-kind, exclusive, private-pay residential-style memory care option that boasts an impressive staff to patient ratio. Contact us today to learn more!