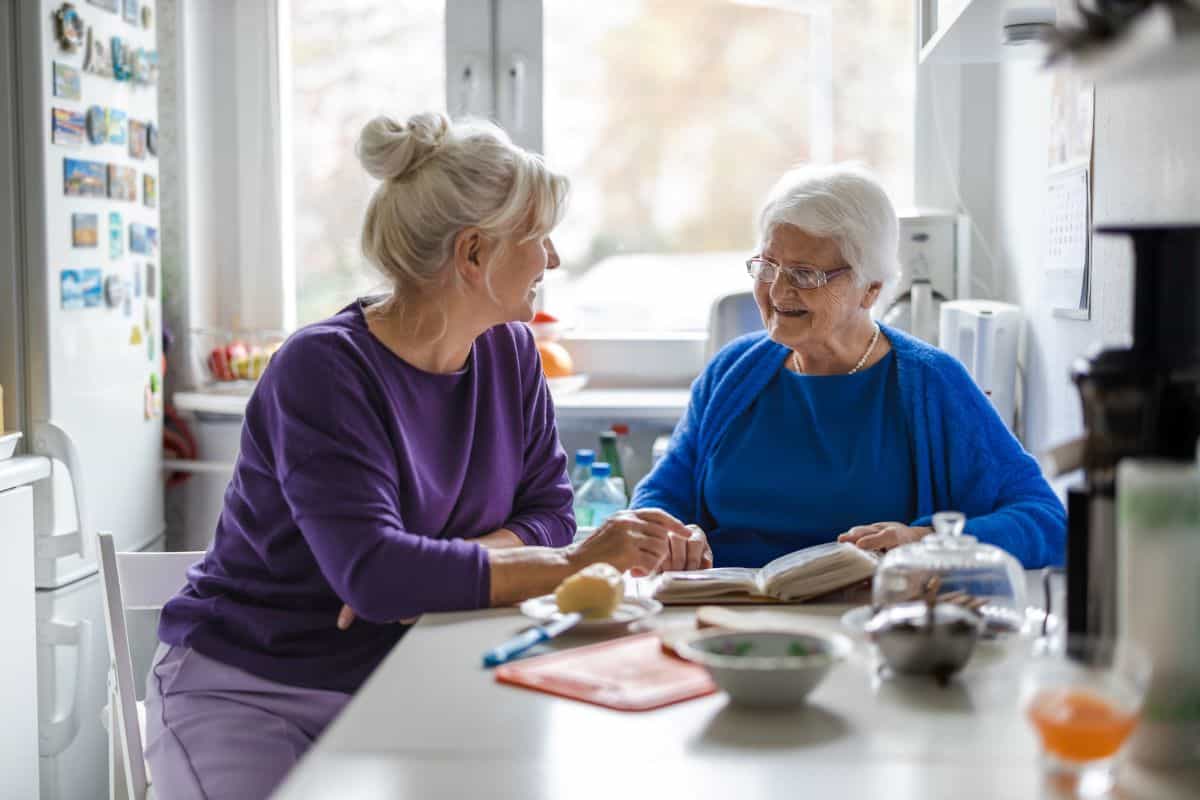 Caring for a dementia patient at home has its benefits, the biggest one being that it's an environment that's familiar and comfortable to them. However, since dementia is a progressive condition and more time and care is needed for your loved ones as they age, it's important to stay mindful of their condition and be ready to adapt to change.
In this blog, we'll discuss the benefits and challenges of caring for dementia patients at home and what you can look out for to know when it's time to consider moving them into more intensive memory care facility.
Do Dementia Patients Do Better At Home Or In A Nursing Home?
Where a dementia patient is best suited to be cared for is a very personal and case-by-case decision. You should take into account your loved one's specific needs and preferences; the stage of their dementia; your available funds, resources, and familial support; and the quality of care that could be provided in each setting.
Home Care
Home care comes with distinct advantages, including that a familiar setting can help reduce anxiety and confusion for people with dementia and allows them to maintain a sense of independence. However, dementia care can be incredibly demanding, especially for untrained family-members-turned-caregivers. Also, it can be hard to ensure that your home is completely safe for a dementia patient to live in.
Memory Care Facilities
Nursing or memory care facilities allow for a high quality of care for a dementia patient, with trained staff experienced in dementia care. These facilities provide a structured environment for dementia patients to thrive in, offering routines that help reduce confusion, activities, and opportunities for social interaction and security to ensure their safety. On the downside, moving to a new environment can be difficult for dementia patients, and there is usually an adjustment period.
What Can You Do For Dementia Patients At Home?
When caring for a loved one or parent with dementia at home, there's a lot that you can do to help provide them with a good environment. Here are a few tips:
Provide mental and emotional stimulation.

Engage in activities with them, use clear communication, and provide reassurance and validation where you can. 

Help them establish a routine.

Plan simple activities for them that spark joy.

Create a safe environment.

You can start to do this by creating clear pathways, locking cabinets with potentially dangerous items, etc. 
Is It Safe To Leave Someone With Dementia Home Alone?
It is not recommended to leave someone with dementia home alone for long periods of time. Because dementia leads to cognitive impairments that affect a person's memory, judgment, and decision-making, it can increase the likelihood of accidents. If you're considering leaving someone with dementia home alone, be sure to check in on their current behaviors and cognitive abilities, remove potential hazards, and schedule check-ins if possible to prioritize their safety and mitigate risks. 
When Can A Dementia Patient No Longer Live At Home?
Deciding when to move a dementia patient from their home to a new living arrangement like a memory care facility can be complex. The decision will really depend on things like the patient's stage of dementia and the level of support and care available to them at home.
How Long Can A Person With Dementia Live At Home?
Dementia patients can be cared for at home for a good while, and generally, until their condition worsens to the point that it makes sense for them to have full-time care. How long your loved one can live at home depends on factors including their cognitive abilities, other medical conditions they're experiencing, how much caregiver support they have available and familial preferences. 
When Should You Put Someone With Dementia In A Care Home?
While some dementia patients can live at home for a long time, there often comes a time when it makes more sense for a family to provide their loved one with a stable, structured, and safe environment specializing in dementia care.
As we've mentioned, it's difficult to navigate deciding when to move someone with dementia out of their home, but there are signs you can look out for as you, your family, and/or trusted caregivers and medical advisors come to a decision. Here are the top 3 signs your loved one with dementia needs nursing home care:
Increased safety concerns.

If your loved one's safety cannot be assured at home, it's time to consider moving them to an area specialized for their care.

Increased care needs and challenging behaviors.

When dementia progresses, it can lead to irrational and erratic behaviors out of your loved one's control. When these behaviors go beyond your or your family's ability to manage, you should consider turning to experts.

Caregiver burnout and strain.

Finally, when your current staff of caregivers becomes burnt out during the care of your loved one, it might be time to either upgrade to a larger staff of professionals or take them to a memory care facility.
Story Cottage is the Memory Care Home For You
If you want to learn more about how to get a dementia patient into a nursing home, receive dementia resources for family members, or provide your loved one with the best care in the state of Indiana, Contact us today to learn more about our best-in-class memory facilities.
Schedule a visit to Story Cottage Carey Grovel, Story Cottage Meridian Hills, or Story Cottage West Clay to see our innovative solutions and comfortable homes.