Indiana Memory Care Services
Our Indiana Story Cottage locations provide peace of mind and are designed specifically for your loved one who needs memory care.
At our Indiana Story Cottage locations, we provide person-centered, creative and innovative, private-pay memory care services for older adults. Both locations offer a safe, comforting residential-style home with trusted caregivers provided exclusively by Senior Home Companions.
Your Next Chapter, Together
Our beautiful Indianapolis memory care home is located just south of the picturesque Williams Creek neighborhood on the corner of 86th & Washington.
Our Carmel memory care home is slated to open early 2021 and is nestled among the trees of Maple Creek at Carey Road and Beech Drive in Carmel, Indiana.
Schedule a Complimentary Consultation |  Join Our
Waitlist Today
If you have a loved one with memory loss, you are not alone.
Read important information and updates about dementia and memory loss.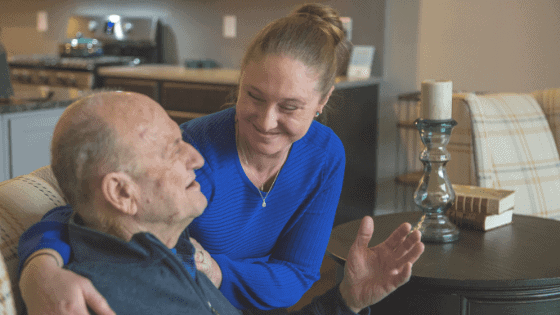 What Memory Care Looks Like Today Searching for a memory care home for your loved one can seem overwhelming, especially if you have unsettling recollections of visiting an elderly friend or relative in a cold, institutional facility. Today's contemporary memory care...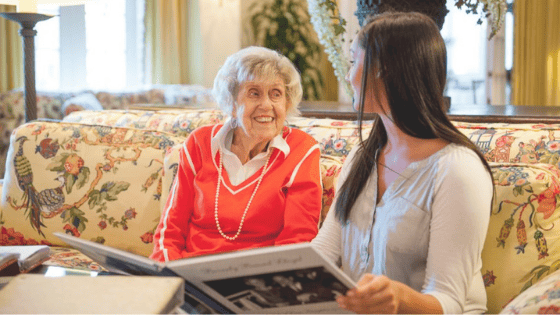 Caring for a loved one with Alzheimer's or memory loss can sometimes be difficult. As they lose their ability to remember your life and theirs, reality may seem to be slipping away. At Story Cottage, as evidenced by our very name, we feel that storytelling and...
"Wonderful environment and beautiful atmosphere and great location. Comfortable and beautiful facility like a home. Women I met were amazing at cooking and caring with a gentle touch or sparkling smile. Just very impressed as an RN on my first steps in the door. Clean and welcoming. Felt safe and sound for my loving Uncle B., and made me feel much better when I had to leave him."
Alicia Elizabeth Abbett Hunter
"The Story Cottage staff creates individual and impactful experiences. At Story Cottage, my mother-in-law is not a "patient," she is not a "dementia case." She is a resident, neighbor and friend. Story Cottage is her home."
Alice Shelton
"Nicole Pope, Esteem Nursing, was a major asset during my husband's time at Story Cottage. She consistently provided the needed medical care with ongoing sensitivity and compassion. Her open and thorough communication provided comfort and understanding. If questions or concerns existed, Nicole was always available to offer professional and personal support. Having had experiences at other facilities, there is no doubt that her contribution to the care, comfort and meaningful communication of each resident is superior."
Darlene Slaby
"Story Cottage's Nicole adds joy and compassion to her excellence as a nurse and is an excellent communicator with both your loved one and your family."
Dori Morton
"As a neighbor and a physician, I am impressed by Story Cottage.  Is it a great addition to our area and has helped a number of my patients have meaningful, connected lives in spite of memory loss."
Dr. Shelagh Fraser
"I was so fortunate to have the care and support of Nurse Nicole during my dear Aunt Sondra's year as a resident at Story Cottage. Nicole partnered with me throughout Sondra's days as a resident as she listened to both my concerns for my aunt's care and dignity, and my worry about her adjustment to the community. Her expertise in working with persons with dementia helped to make the last year of Sondra's life meaningful and important. While Nicole and I had many discussions about medical and pharmaceutical options to manage Sondra's behaviors and the challenges that she faced in her journey with dementia, her wise counsel was to seek balance and take time to see how Sondra responded to any change that I decided to make in her care. Nicole always put Sondra first. I remain grateful for her person AND professional care and friendship."
Alice Shelton
"I have been serving patients with memory loss for more than 30 years and can honestly say that Story Cottage is likely providing the highest level of memory care I have seen in the State of Indiana. It fits perfectly in a neighborhood and allows residents to essentially age-in-place and maintain a sense of community and independence."
Dr. Bill Arnold
"Nicole provides our mother high quality and attentive nursing care at Story Cottage. She is very responsive and prompt in communications."
Richard VanRheenen and Stephanie Martin
"Nicole is warm and caring. She is very thoughtful when suggesting care options. Nicole understands the unique needs of the residents. She made us feel very comfortable from the start at Story Cottage."
Kathy Ackerman